Redbank Valley
Chamber of Commerce
309 Broad Street, Suite 2
New Bethlehem, PA. 16242
Phone: (814) 275-3929
Fax: (814) 275-4269
[email protected]
Business of the Month: August2023
The J.M. Smucker Co.
Local Manager: Jeff Snodgrass
Start Date: 1897 in Orrville, Ohio – New Bethlehem 1965
Primary Product: Various brands of the Company's peanut butter including Smucker's, Adam's, Laura Scudder's and Santa Cruz.
Business Goals: To deliver popular peanut butter products consumers trust for themselves and their families every day.
Business Motto: Our Purpose, Feeding Connections That Help Us Thrive – Life Tastes Better Together
September in the Redbank Valley – yellow school buses on the roads again, the first hint of color in the trees, cooler nights as summer drifts away, the whining song of corn choppers in the distance, the smell of roasting peanuts in the late summer air, and New Bethlehem's Peanut Butter Festival. September in the Redbank Valley and the Peanut Butter Festival go together like – well, Smucker's peanut butter and jelly!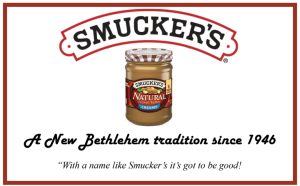 September and the Peanut Butter Festival make a compelling case for the Redbank Valley Chamber of Commerce to highlight The J.M. Smucker Co. as our "Business of the Month" for September. The J.M. Smucker Company has been an economic pillar in New Bethlehem since purchasing the H.B. DeViney peanut butter factory on Keck Street in 1965. Not only has Smucker's been a linchpin in the area's economy for 58 years, but Julia Sabin, the Smucker's plant manager in 1996, was instrumental in getting the very first PBF off the ground.
The J.M. Smucker Company was founded in 1897 by Jerome Monroe Smucker, an Orrville, Ohio farmer who began making apple butter and selling it from a horse drawn wagon. After a generation, the company incorporated in 1921 and by 1928 was marketing jams, jellies, and fruit preserves in Indiana, Ohio, and Pennsylvania.
During the last 50 years, The J.M. Smucker Co. also embarked on a program of product diversification. After nearly a century of focusing on jams, jellies, fruit juices – and peanut butter – Smuckers is now a major player in the pet food (and treats) and the coffee markets. Among the brands that Smuckers produces in the US and abroad are:
Foods:
Pet foods:
Coffee:
The Smucker's peanut butter factory here in New Bethlehem is one of three such Smucker's facilities in the US. The factory on Keck Avenue was originally built as a brewery and was serving to a milk processing plant when the H.B.DeViney Co. purchased it in 1946 and converted it to a peanut butter factory, manufacturing Kitchen King Peanut Butter. Smucker's bought the plant on October 13, 1965. It is a manufacturing and distribution center for Smucker's peanut butter products and labels. Since then, Smucker's has been an integral part of the Redbank Valley community and of the Peanut Butter Festival. Julia Sabin, manager of the peanut butter plant in 1996 was a driving force behind organizing the first Peanut Butter Festival and the company co-sponsored the first event. The company remains an active and vibrant member of our community and continues to sponsor the PBF Queen & Princess Scholarship contest.
Mr. Jeff Snodgrass, plant manager, graciously answered some questions for this article. He told us that the main goal of the peanut butter factory in New Bethlehem is to deliver popular peanut butter products consumers trust for themselves and their families every day. The J.M. Smucker Co.is  inspired by its Purpose, "Feeding Connections That Help Us Thrive – Life Tastes Better Together".
He said, "We have been proudly producing Peanut Butter in New Bethlehem for 58 years and are unrelentingly committed to delivering quality products through our stringent processes while offering a positive work environment that supports our employees.
"We offer competitive wages and a very good benefit package which begins on day one of employment. Our package includes:
Health/Dental/Vision/Life
3 weeks of Paid Vacation (Option to purchase 4th week)
12 Paid Holidays, 4 Personal days
401(K)with company match up to 7%
Annual 2% holiday bonus"
Mr. Snodgrass also mentioned that the peanut butter factory has nearly 60 employees with an average of almost 10 years of service. They are currently hiring for a number of positions, offering $20.75 – $23.16 (Plus 2nd & 3rd Shift Differentials).